"Creating the Right Atmosphere"
Mechanical Equipment Sales Since 1973
HDL/AVK Ball Check Valves Eliminates Water Hammer
Water Hammer is a pressure shockwave that can rupture pumps and piping and cause severe damage to a piping system. It is a common issue with traditional check valves that need gravity and flow reversal to close.
Properly sized, non-slam HDL ball check valves can minimize or even eliminate water hammer.
HDL 5087 and 2030 ball check valves consist of just three components: body, cover and ball. The ball is the only moving part. The freely moving ball is mounted in a valve housing so that return flow is effectively prevented. The metal ball is covered with an oil, sewage and seawater resistant rubber which provides a perfect and silent seal.
The HDL model 5087, now AVK Series 53, is the most widely used ball check valve in municipal and industrial applications.
​
Available in sizes 1½" to 24", these ductile iron and stainless steel Ball Check Valves are ideal where there is danger of water hammer or clogging, such as sewage and storm water systems.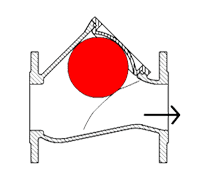 Downloads:
The basic purpose of a check valve is to permit flow in one direction, and prevent flow in the opposite direction. The simple, non-slam design of the HDL Model 5087 Ball Check Valve eliminates water hammer and offers significant advantages over traditional flap check types.
HDL Model 5087 Ball Check Valve
Flanged x Flanged ends

Drilled to ANSI B16.1

Sizes 1 ½" to 24"

Bolt-on cover for easy inspection & ball replacement

Working pressures to 145 psi

Temperatures to 175˚ F
HDL ball check valves offer exceptional operational reliability, and are virtually maintenance free. The flow pushes the ball out of the stream. This results in a full free valve opening and very low friction loss.
Normally the rubber coated ball closes off the inflow opening. The check valve ball is released from its seat when the slightest difference in pressure occurs. As soon as the fluid flows through the valve, the ball slides away from the flow of fluid along both guide rails. The inlet is then completely free. If the fluid pressure drops, the ball then slides back into the valve seat and closes off the opening completely again.
​
The HDL Ball Check Valve keeps solids, stringy material, grit, rags, etc. moving without the need of back flushing. There is no place for sticky material to wrap around; no pockets for sediment to collect; it is basically a non-clog valve.
​
The rubber coated hollow metal ball is resistant to grease, petroleum products, animal & vegetable fats, and dilute concentrations of acids and alkalines (pH 4-10). It has a high load bearing capability and low compression set. Since the ball rotates the surface seat changes constantly.